6 Easy Tips for Getting Your Home Show Ready
Posted by Kate Yachini on Tuesday, November 1, 2022 at 11:54:22 AM
By Kate Yachini / November 1, 2022
Comment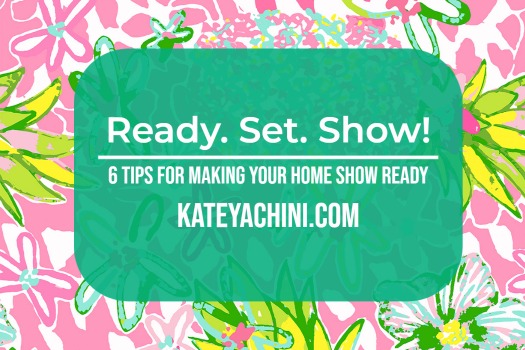 Your home is officially on the market and we get your first showing request. Yes! The moment we've been working towards, you should be excited right? If your first showing has you feeling less excitement and more a sense of dread, read on for some tips on showing prep.
Lights - Yes, your electric meter should be spinning! Turn on every overhead light, accent lighting, lamps, whatever you have. Most buyers are looking for homes that have both natural light and plenty of overhead lighting too. Additionally, good lighting allows buyers to see all the great features of your home.
Lockbox - For homes that are occupied, I typically do not "shackle" or attach the lockbox to the door handles/knob. Most owners appreciate having the ability to bring the lockbox inside and setting it out for showings. This eliminates the risk of surprises. While agents are required to schedule showings, accidents can happen. However, it's vital to make sure the showing agent has access, so this should be near the top of your list.
Baths: All Toilets sheets should be closed. Keep cleaning wipes under each sink and do a quick wipe to make sure the countertops are fresh and clean. Note: This is not a last minute item, but more a lifestyle: be sure to put away as much as possible on a daily basis, keeping your countertops as clear of clutter and personal items as possible.
Kitchen: Here's another great place to keep some wipes for a quick counter top touchup. Try to keep your kitchen as clean as possible on a daily basis so you are not overwhelmed come showing time. Clear off countertops and find a home for everything. If you are like most of us, you may need to declutter to accomplish this.
Check for odors. Have you ever been cooking all day and not smelled a thing than had someone come in and ask what smelled so good? We tend to get used to odors and yet the sense of smell has the strongest memory of all the senses. My advice here is not to go crazy with strong fragrance, but eliminate any odor trapped int he house. Run the garbage disposal, take out any trash with food waste, and start the dishwasher if necessary (especially if it's quiet). Do a quick shot of febreeze on anything upholstered - not enough to make it damp, but just a light refresh. if the weather is cooperating, open door and windows to exchange air in your home.
Remove pet items such as bowls, leashes, beds, etc. Store in the garage or some where not top of mind. Not all buyers have pets or will have the same type of pets as you and these items tend to be bulky, hold odors, and may not help buyers see themselves in your home.
Bonus: The laundry basket technique. I discovered this from some clients year ago and have been using it personally ever since. Keep a laundry basket handy and use it as a catchall for any projects, papers, anything that you don't have time to put away before the showing. Then pop the basket in your trunk just before the showing. When the showing is done, bring the basket back in and voila!
Remember, you live in your home and your sanity is important. Do what you can and don't stress! Buyers are there to look at your home, not inspect your housekeeping. Just do your best and don't worry about the rest!