Estate Home Sales
Posted by Kate Yachini on Monday, November 7, 2022 at 1:34:27 PM
By Kate Yachini / November 7, 2022
Comment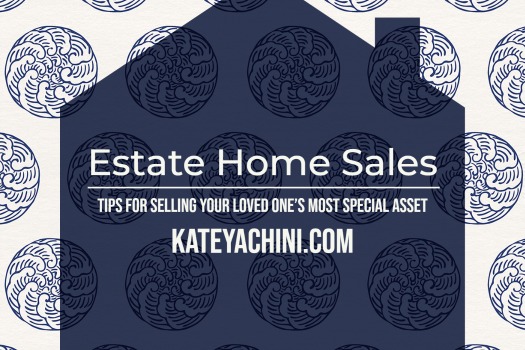 If you are reading this, you might be going through one of the most difficult times in your life. The passing of a loved one brings so many emotions, memories, and grief. If you are in this position, I pray that you and your family will find peace in the coming days.
With loss, comes the challenge of dispersing an estate. Often, a home with years of memories must be emptied of its contents and prepared for market. In addition, the home itself could use some love too. It may seem like a daunting task.
Over my career as a real estate agent/broker, I have seen many inherited homes go on the market. Here are my top 5 tips to selling an inherited home.
1. Attend to any maintenance items and make minor repairs when required - If your loved one was ailing for an extended period there may be deferred maintenance items that should be attended too. Consider having the HVAC serviced, gutters cleaned, home pressure washed, etc. These items may help prevent major repairs later. Make sure that you have someone physically monitoring the property if you can not be present.
2. Declutter an/or stage the home for sale - This may mean a coat of paint, reworking the existing furnishings, or bringing in a home staging company. Personal items should be removed prior to listing. As temping as it may be to wait and manage the belongings later, a staged home will result in a higher sale price.
3. Price the home properly - Memories may make it challenging to see the home as it currently is. Pay attention to current market conditions and recent sales, and be sure to ask your REALTOR for a comparative market analysis.
4. Get proper legal advice - Consider contacting a local estate attorney to be sure that once you have an acceptable offer you can transfer clean title to the homes. I'm happy to provide a list of reputable estate attorneys for you.
5. Be wary of accepting any pre-market offers. Investor offers may be tempting, but typically they are under market value. Consider all the variables.
While there are challenges to selling an inherited home. I hope that I can help make the process easier for you while maximizing the net proceeds from the sale so that they might go to those that your love one intended.