Where Hilton Head Stops and Bluffton Begins
Posted by Kate Yachini on Friday, November 11, 2022 at 1:55:10 PM
By Kate Yachini / November 11, 2022
Comment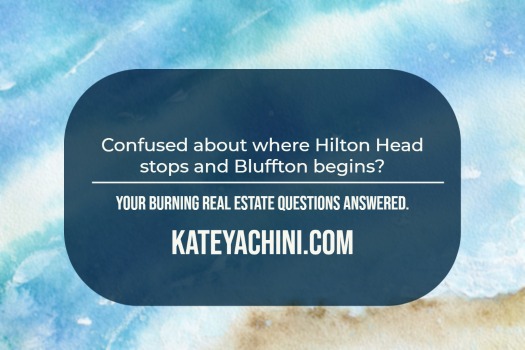 You are not alone, and we don't make it easy on our visitors. Hilton Head seems to have made its way almost to I-95, as seen in the names of Latitude Margaritaville Hilton Head, Hilton Head Lakes and Sun City - Hilton Head. Depending on how long you've lived in the Lowcountry, and in which community you reside, you might think of the geographical confines of Hilton Head and Bluffton differently. It's often thought that Bluffton is anything on the mainland side of the bridge and Hilton Head Island is across the water, but of course it's not that simple.
When searching for a home, it gets complicated. Homes on the mainland in areas such as Moss Creek and Buckingham Plantation have Hilton Head Island addresses. While they are served by the Hilton Head post office, they are not part of the Town of Hilton Head. Windmill Harbour, on the other hand is on the Island side of the bridge and has a Hilton head Island address, however it is also not a part of the town of Hilton Head Island. These areas are located in unincorporated Beaufort County.
In fact, much of the mainland that is often perceived as Bluffton is technically also part of unincorporated Beaufort County. This includes Belfair, Colleton River & Berkeley Hall which are all on the Northern side of 278. While the Bluffton post office serves these communities, only town residents can run and have a vote in town matters including mayoral and town council elections.
If you have a question about whether a particular property lies within Town of Bluffton limits, check out this website http://www.townofbluffton.us/bluffton/. While Town of Bluffton property taxes are generally higher than in unincorporated Beaufort County, they do include some additional services including trash & recycling pickup.