Who Pays Realtor Fees?
Posted by Kate Yachini on Tuesday, November 1, 2022 at 10:46:54 AM
By Kate Yachini / November 1, 2022
Comment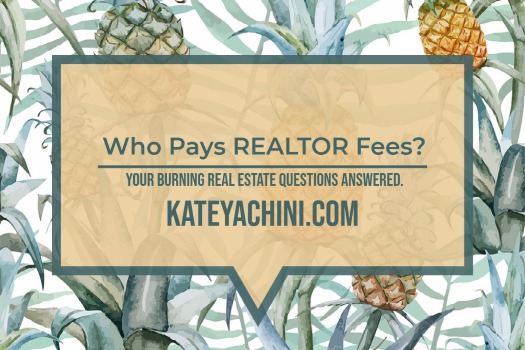 If you are reading this you're probably curious about how compensation and representation work in a real estate transaction. You might have assumed they are the same thing, but they are definitely not. For instance, an agent may be paid on the selling (buyer) side of a contract, but not have any duty to represent the buyer whatsoever. You might ask, how can that be? While I can only speak to South Carolina where I am licensed, an agency relationship is not required for compensation and visa versa.
Here in South Carolina, at first substantive contact, whether you are a buyer or a seller, you should be presented with an agency disclosure brochure and a meaningful explanation of agency relationships. This helps potential buyers and sellers understand that the person they are meeting with is not representing them and their interests unless an agency relationship has been created. To formalize an agency relationship, a buyers agency agreement is signed by a buyer and in the case of a seller, a listing agreement typically creates the agency relationship.
So back to your question, who pays the realtor fees? If a listing is listed in an MLS or multiple listing service, the seller's agent is offering a cooperating brokerage a percentage of the selling price paid by the seller to an agent who brings a buyer. If a buyer is unrepresented, the listing agent may be paid the entirety of the fee. In some cases, the seller and the listing agent might have negotiated a reduced fee if the listing agent is on both side of the transaction.
What about when a buyer is purchasing a new home from a developer? From personal experience I have found, that the developer is almost always willing to compensate a buyers agent. I highly recommend having your own agent because, by default, developer sales agents are representing the developers that they work for. They have no obligation to help the buyer find a property that fits their needs, point out potential issues, etc. The are hired by the developer and their job is to sell the developer product at the highest price possible. This might sounds shrewd, but it's true and they are working for their boss just like a buyers agent is working for his or her buyer.
To sum it up, know whether you are being represented and don't be afraid to ask how an agent is being compensated. If you are purchasing and the commission is being paid at closing from seller proceeds, wouldn't you prefer to have someone looking out for your best interest?